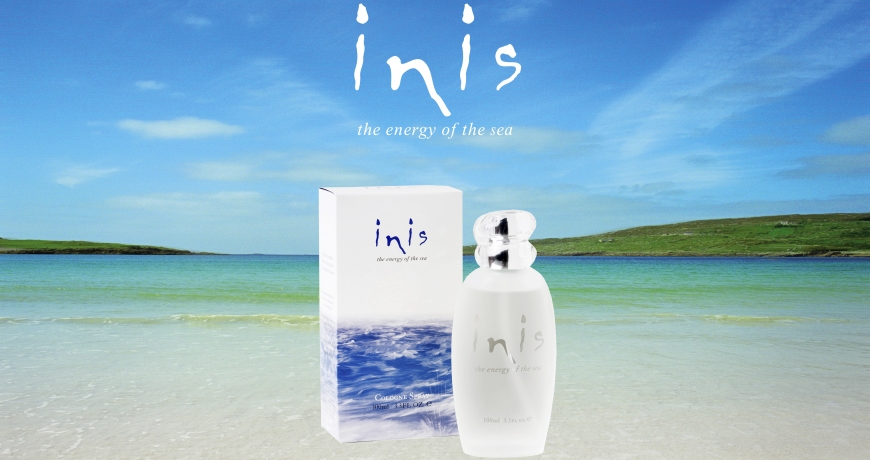 Here, at Cadeau, we are so proud to be stocking Inis, the energy of the sea! After a long week-end in Paris, and two days of walking in the amazingly huge Maison & Objets exhibition, I stumbled upon a small stand, with beautiful turquoise and sea colours… I had to stop to have a better look, and try to have a sniff. I was coming up with flu, and was feeling feverish and generally unwell, and even though my sense of smell is not particularly acute at best of times, I fell in love with that incredible pure scent.
Everything was appealing on the stand: the cologne itself is a sparkling clean, fresh, unisex scent, that really captures the coolness, clarity and purity of the sea. The name Inis which means 'island' in Irish. The simplicity of the packaging. The colours: white and turquoise blue. The ethos of the brand: no testing on animals and a commitment to whales and dolphins. David, one of the creator of the brand and perfume, was very nice and friendly. And so we are now very happy to be stocking this lovely product, as well as a beautiful hand cream and body lotion with the same fragrance.
Fragrances of Ireland is a brand committed to raise awareness on environmental issues. They are proudly one of the core funder of the IWDG, the Irish Whale and Dolphin Group. Since 2001, they help this organisation in their work and research on dolphins and whales in the Irish sea and around the world, for a better understanding of these amazing sea creatures. Their work helps ensure that the seas will still be a source of delight and joy for future generations.
'The ocean is a place of wonder and magic, its energy is the inspiration for Inis the Energy of the Sea.'
You can buy this lovely and fresh fragrance as gift for him or her! The fragrance captures the vibrant feeling of a perfect sunny day by the sea – clean and energising top notes of lemon and marine bring a fresh feeling, like sunshine on your face, heart notes of lily of the valley are like a soft summer breeze on your body, while base notes of sandalwood and clove give an earthy warmth like sand between your toes.
Head notes: Neroli, Sicilian Lemon, Bergamot, traces of marine notes
Heart notes: Geranium, Lily of the valley
Soul notes: Cloves, nutmeg, sandalwood, Oakmoss and musk
Inis refreshes and makes you feel close to the sea, no matter where you are!