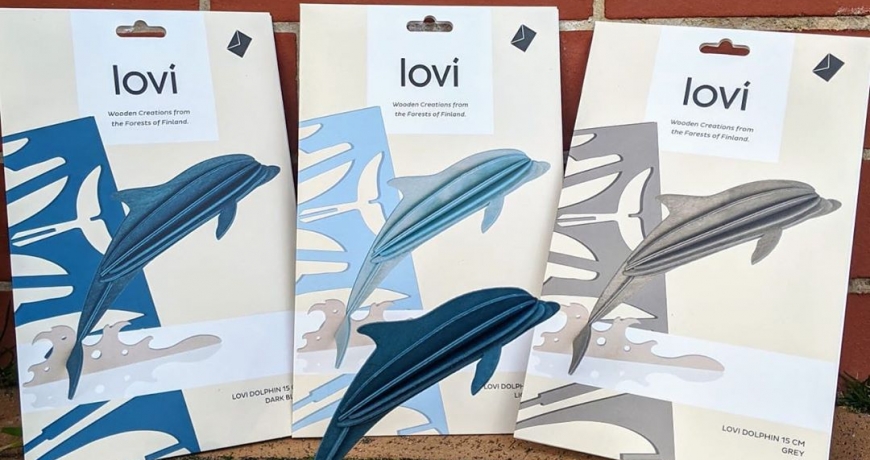 Sealife Collection by Lovi
We are so happy to present the Sealife collection by Lovi. Brand new for Spring 2020, Anne Paso, designer and founder of Lovi brings us a delightful range. From the gorgeous penguins, to the amazing turtles, seahorses, dolphins and stunning jellyfish. Those beautiful wooden models to make yourself, also come in brand new colours! All the sealife creatures are patented for Lovi.
Lovi is a beautiful family brand from Finland. Started in 2006, the company is manufacturing wooden pieces designed and patented by Ann Paso. Each item comes in a recycled thin cardboard envelope with instructions. Easy to assemble yourself by slotting pieces together, with no tools or glue. Collect them all, make mobiles, get the natural wood ones to paint and decorate yourself.
Lovi is one of the first brand we ever stocked, and we are very proud of being able to stock and sell their beautiful products. We liked the ethos and respect of that company for nature and the environment.
Wood is one of the nature's finest and most versatile renewable materials. Trees take care of us by taking carbon dioxide and releasing oxygen into the air. At the same time, they help prevent global warming.
Lovi products are made of 100% birch plywood from the forests of Finland. The wood that is used is PEFC certified, in which new trees are replanted right after felling. Today northern forests are growing at a faster rate then they are felled. Lovi is so committed that they donate part of their income to re-planting schemes in areas of the world, affected by drought, erosion and floods. Since 2009, they have planted over 55,000 trees, with Finn Church Aid.